Our technology partners
---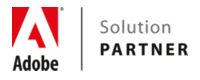 TurnPages is a Solution Partner of Adobe. This renowned firm is a developer of sophisticated software like Acrobat, Flash, Dreamweaver, Coldfusion, Director and many others. Our partnership with Adobe grants us access to the very best know-how and expertise in the area of Flash- and PDF Technology.

TurnPages is an official Apple Developer for iPad and iPhone Apps. This not only gives us access to the highest expertise for designing and building Apps, but we also hold the required Apple licenses to publish in the App Store your Apps for iPad and iPhone.

Our knowledge partners
---

TurnPages has a partnership with the Dutch University of Twente. For research that covers areas like User Interfaces and Usability issues, we work in close cooperation with the faculty for Human Media Interaction (HMI).