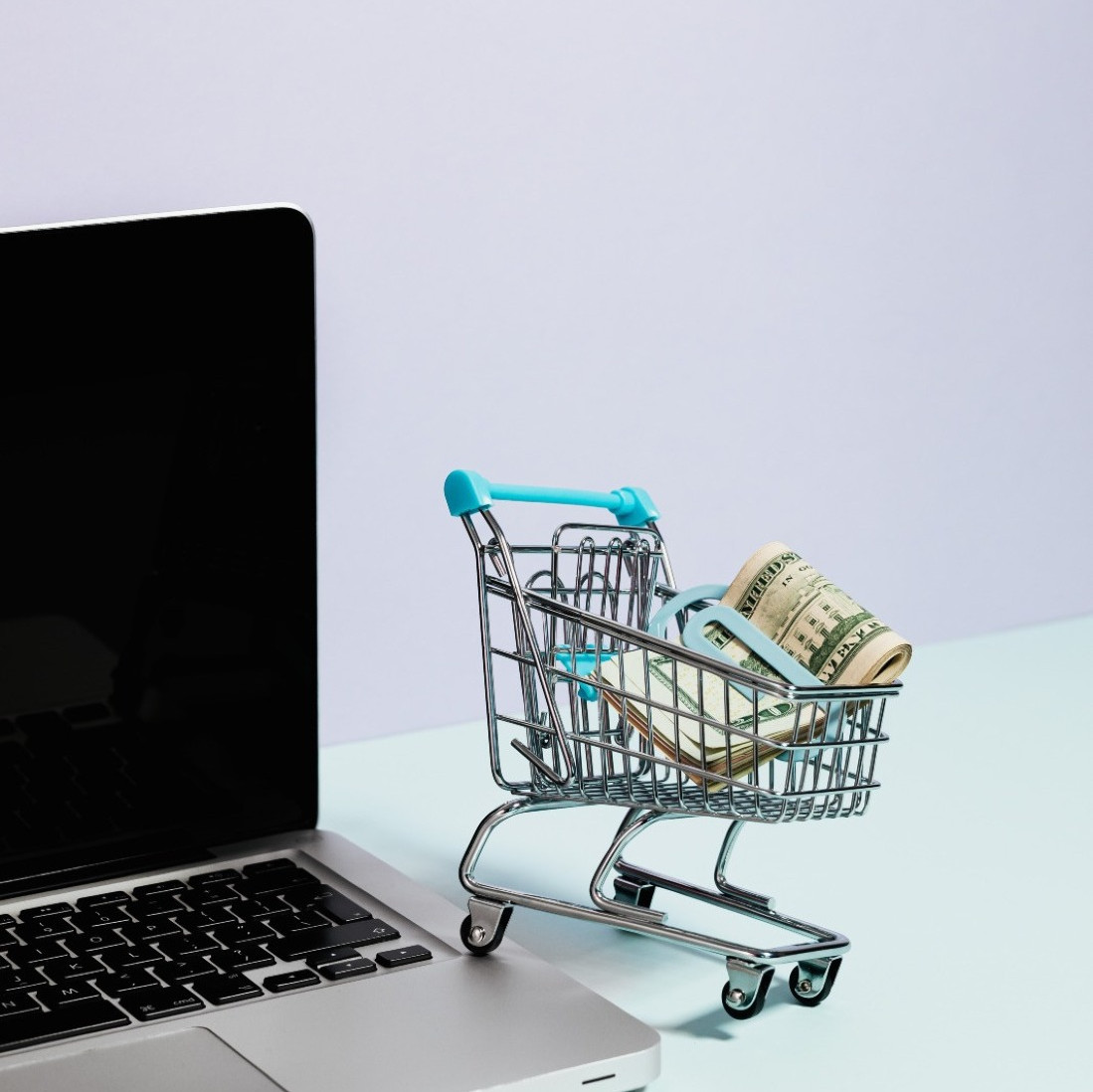 ---
E-Commerce: adding digital catalogs or sale flyers to a Webshop
On this page: how can digital catalogs and sale flyers be added to a webshop? How can product overlays with cross-sells and deep-sells be used to increase sales? How to apply dynamic prizes in digital catalogs and sale flyers?
---
Expanding your webshop with digital catalogs and sale flyers
Usually, catalogs and sale flyers are made because they can be distributed in printed form to customers. It then seems obvious to use online versions of the same catalogs and sale flyers on the webshop and design them so that all the products in the digital catalogs and sale flyers can be bought directly in the webshop.
First, the PDFs of the paper versions are used to make online Turning Pages digital versions. These versions have as much as possible the same appearance and experience of the paper versions but now on a screen.
Next, all the products shown in the digital catalog or sale flyers are made 'clickable'. If the visitors clicks on an article, they will automatically be redirected to the product page in the webshop, where they can find more information and buy the product.
A major disadvantage of this solution is that the visitors leave the digital catalog or sale flyers when they click a product. To continue browsing the catalog, they have to use the back-button of the browser or close the webshop tab.
To provide our customers the next generation PDF to WEB solutions, we have created technology that goes beyond simply linking articles in a catalog to a webshop. These solutions will be explained below.
Product Overlay
If the visitor clicks on a product in a digital catalog or sale flyers made with TurnPages, an overlay opens that shows all additional information, such as brand name, price, product name and a description with the product specifications. This overlay appears within the same browser page, which means the visitor can see all this extra information without leaving the catalog.
The visitor also has the options to watch more photos of the product. If they are interested in buying the product, they can click on the 'order' button in the overlay to be redirected to the webshop page of this product.
Using such product overlays, the visitor doesn't have to switch between the catalog pages and the webshop pages nearly as much. If the webshop has a Cart API, visitors can even add products to their cart directly from the product overlay.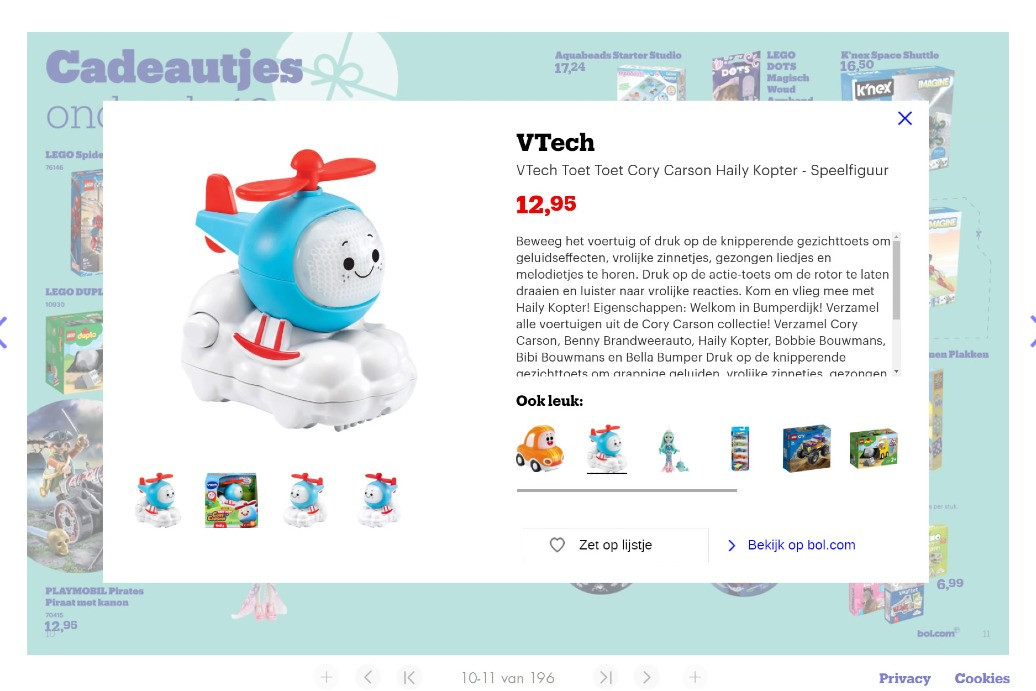 Cross-Sells
The product overlay can also be used to show similar (cross-sell) or additional (deep-sell) products. This is usually done by showing small pictures of these articles in the product overlay, next to the main picture.
If the visitor clicks on one of these small pictures, the product overlay will switch and show the cross-sell product as the main product. The 'order' button will link to this product in the webshop.
By using cross-sells and deep-sells in a product overlay, it is possible to show visitors more different products. For example in sale flyers also show products that do not have any discounts, and will therefore have a larger margin of profit.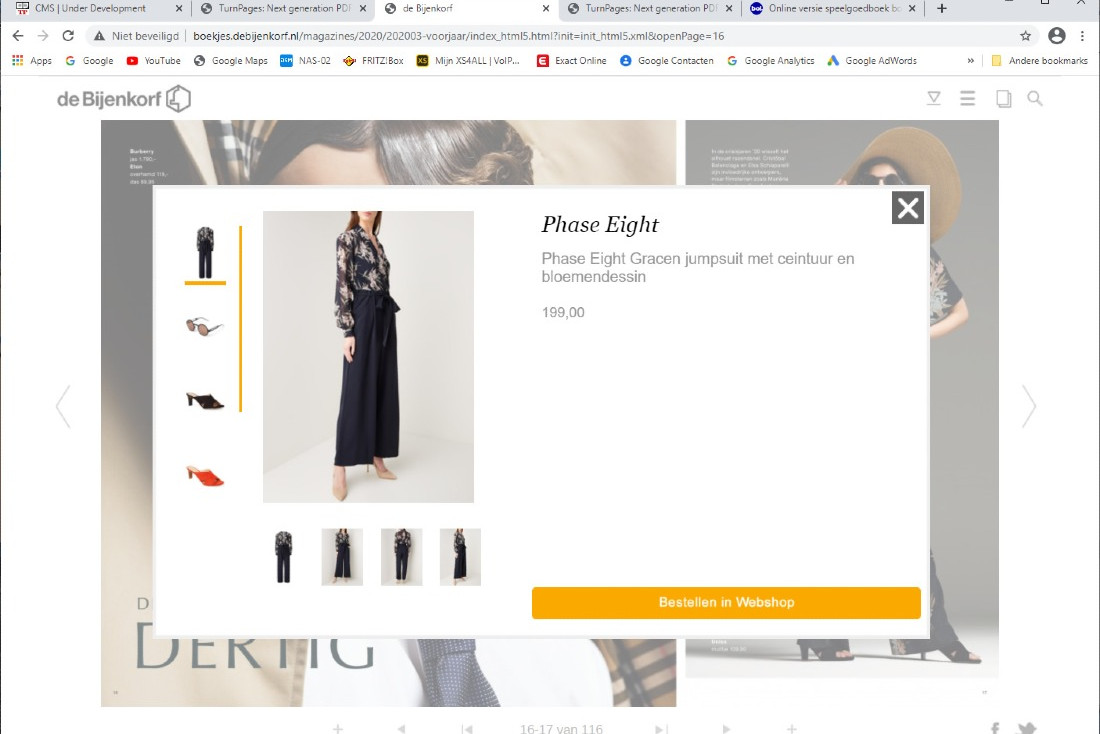 Product rich pictures
It frequently occurs in catalogs and sale flyers that one pictures shows multiple products. For example when a model wears multiple pieces of clothing, or on pictures showing the interior design of a house.
When this happens, one could choose to not make every product clickable separately, but to make the photo as a whole clickable.
With 1 click on the picture, all products are then shown in the product overlay. In place of the cross-sells, the overlay will now show all products from the picture. The visitor can then easily check out all products and get any additional information they might want to know.
Depending on how the webshop and digital catalog are integrated, the visitor can select multiple articles in the product overlay, and add all of them to the cart at once.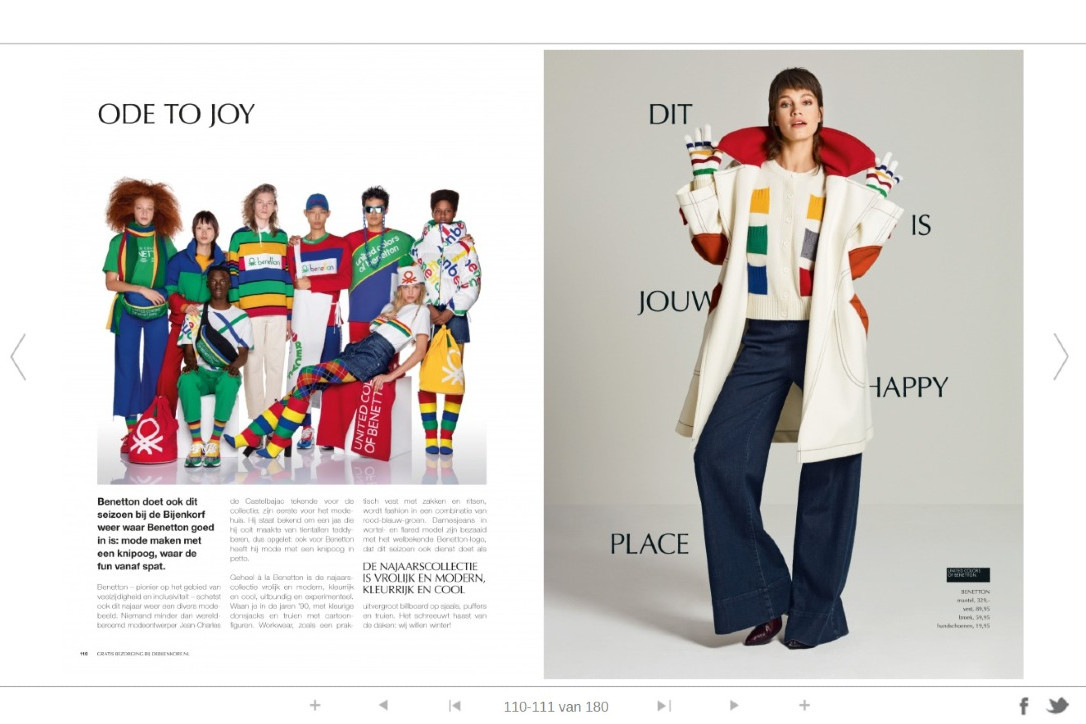 Dynamic prizes
A challenge of current times is that prizes in the webshop need to be adjusted frequently to compete with other webshops.
TurnPages provides solutions to make the prizes shown in the online catalog dynamic by linking them in real time to the prizes in the webshop.
The prices on all pages in the online catalog are rendered dynamically. By using the catalog font and layout, the dynamic prices look as if they are printed on the page.
However, they are not, these prices automatically change along with the prizes in the webshop.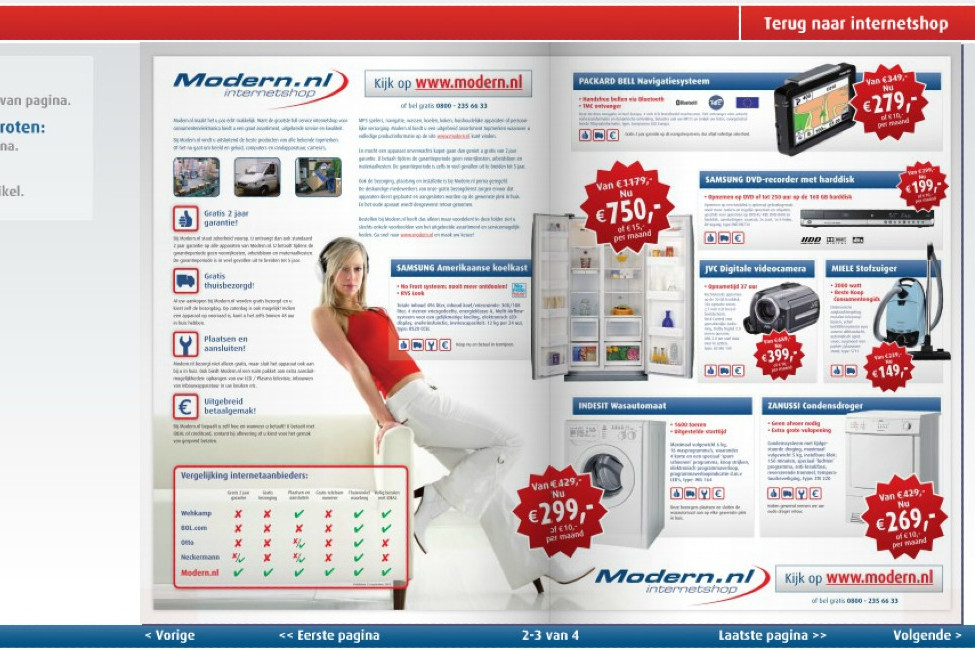 Online-only catalog or sale flyers
If there is no printed sale flyers or catalog, it is less obvious to make an online version with TurnPages. The webshop itself can be used to promote discounts, or to show categories of products. However, there are exceptions.
Customers sometimes very much like the feeling of browsing through paper versions of sale flyers or catalogs. For those customers, the online TurnPages versions can offer the same browsing feeling.
With no printed version, it is also easier to generate different versions for different target audiences. Sometimes, it is even possible to generate different versions automatically, all with dynamic prices.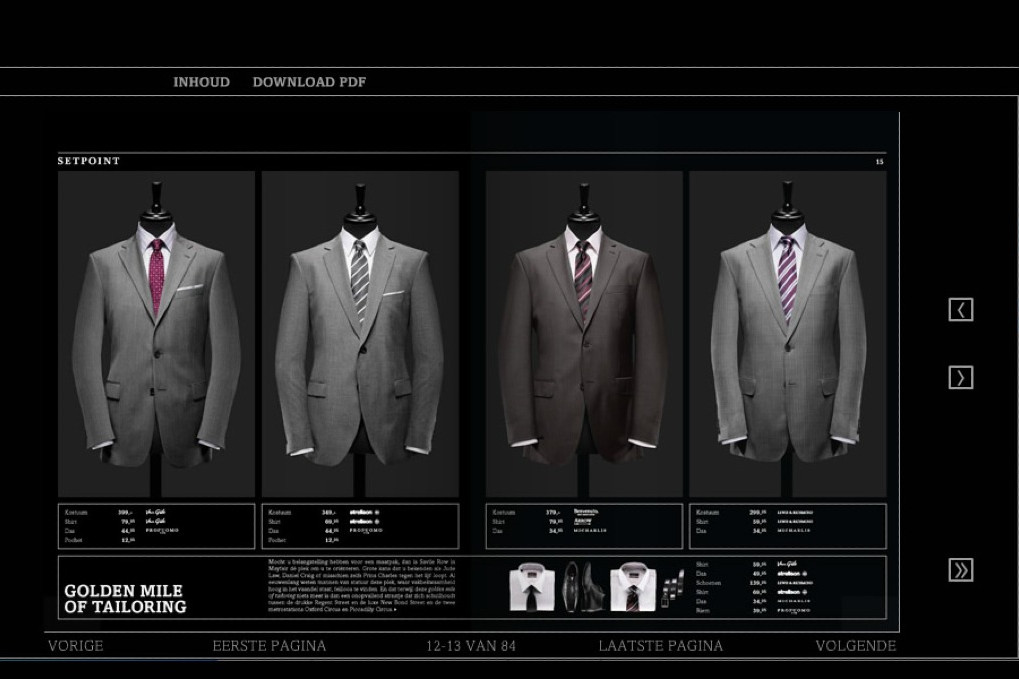 How can a product overlay be added to a digital catalog or sale flyers?
For showing a product overlay with additional information and/or dynamic prizes, this data needs to be obtained from webshop backend. Two common ways to realize this are by (1) using a product feed, or (2) via a Webshop API. Both methods will be explained below.

Product Feed
Most webshops have the option to generate a product feed. This is an electronically readable list of all webshop products in XML or JSON format. This list also contains additional product information such as brand name, the current prize, a description, and links to product pictures.
Product feeds can also provide a list of the cross-sells and deep-sells products for each product in the catalog or sale flyers.
For larger webshops, it is common to not have a single large product feed of all products, but only for specific product lists or categories.
The TurnPages technology contains easily configurable modules that can efficiently and effectively request, read and process product feeds. This way, existing product feeds can be used to show product information in overlays. The same mechanism can be used for showing dynamic prizes.
Webshop API
Increasingly more webshop backends don't only support product feeds, but also have an extensive webshop API. With such an API, it is not only possible to read out product information digitally, but also to place articles in customers' cart.
For webshops supporting this option, TurnPages offers software modules with which products can be placed from the product overlay directly in the customer's cart.
With a single click, customer's can now not only add single products but also add all selected articles to their cart, for example when they see a product rich photo of a matching set of cloths and want to buy the set.
If a webshop has a wish list and a webshop API that enables adding products to that wish list, TurnPages can also offer modules that allow customer's to add products to their wish list, directly from the catalog or sale flyers.
TurnPages offers solutions for expanding your webshop with online catalogs and sale flyers
This page gives a short overview of the most common methods for adding digital catalogs and advertising leaflets to webshops. Every individual situation, however, can be different. Beside standard solutions, TurnPages also has the expertise and experience to create solutions adapted specifically to your situation. If you want to learn more about our standard solutions, or if you want to discuss your specific situation, please get in touch with us.
Next page: Design Templates
With a white label template, the background will be the same for all publications, even if they are made for different companies or brands. TurnPages uses branded Design Templates for a Look & Feel in the corporate design and identity of your company or brand.